Marine Civil/Structural Engineer, Commercial Diver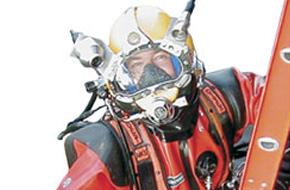 AMI Consulting Engineers
Every project I work on adds some new dimension and challenge to my life. My experience and knowledge grow with each new project, and this allows me to share and teach others.
Education
B.S., Civil Engineering, University of Colorado
Contact
What is your current job and what does it entail? 
I am co-owner of AMI Consulting Engineers and manager of the marine engineering and commercial diving services. We provide complete structural, marine, civil and industrial engineering services throughout the United States with our main office located in Superior, Wisconsin, and a satellite office in Virginia, Minnesota. I manage engineering inspection, analysis, assessment and design services for all waterfront structures above and below the water, including but not limited to bridges, docks, dams, tunnels, pipelines, ships, potable water facilities, industrial facilities and pretty much anything else you can think of that is in or around the waterfront. I'm also part owner of Nordic Underwater Services, providing underwater construction and salvage.
What was the key factor in your career decision? 
The key factor for me was finding something that kept me challenged and gave me a constant variety of work. I'm not a person to sit in an office all day every day, so adding the deep sea diving to my engineering career added the adventure and challenge I needed.
What do like most about your career? 
The variety. Every project I work on adds some new dimension and challenge to my life. My experience and knowledge grow with each new project, and this allows me to share and teach others.
What do you like least about your career? 
Preparing and writing technical specifications for engineering projects and performing legal/expert witness services. Both involve many hours of writing and editing of technical data, contract language and legal loop holes, and sometimes unrealistic scenarios of cross examination from legal experts with no real understanding of the underwater or topside engineering environment. Luckily my business partner likes the legal side and I can defer the specification writing to other staff members at this point in my career.
What do you do to relax? 
I like water sports of all kinds, fishing, hunting, four-wheeling, working outside, running, lifting weights, playing paintball and watching my kids play sports.
Who are your heroes/heroines? 
I don't really have any one hero, but respect those people in life with a positive attitude and a can do spirit. Life is too short to be negative! When life throws us a curve ball or puts road blocks in front of us, keep your head up, work hard, be positive and push to find a solution. There is always a way to overcome any adversity if you are driven, focused and remain positive!
What advice would you give a student who expressed an interest in pursuing a career in your field? 
Don't cut corners! There are many good engineering and deep sea diving schools. Don't worry about the name or the glamour of the institution. Instead find one with an excellent reputation for teaching sound engineering and professional skills. Find one that fits you as a person and don't forget to interview them! You are paying a lot of money for your education, so demand excellence from them and take it seriously. Once you are out of school and have your degree, it matters very little where you went to school, but rather how well you can perform the skills you should have been taught and learned. Just make sure you love your career choice and the rest will all fall into place naturally.
Are career opportunities in your field increasing or decreasing and why? 
Right now the opportunities are increasing. In the U.S., everything is getting old and requiring significant repair and/or replacement. We are just making a dent in what's to come!
What will you be doing 10 years from today? 
Hopefully the same types of things I'm doing right now! I would like to do more underwater salvage work; it's a real challenge! I also like being involved in specialty projects that are out of the ordinary and hope to do more of these types of projects.